Uluwatu Tours is an Bali Full Day Tour Package to visit Uluwatu Temple with sunset view facing to the Indian ocean and with some group of monkey nearby the Uluwatu Temple. This Uluwatu Tours package will visit Garuda Wisnu Kencana Cultural Park planned to be established a landmark or Bali mascot, in the form of a giant statue, that is a statue of Lord Vishnu riding a Garuda bird, Beautiful Padang – Padang Beach is one of the best white sand beaches, Visit Uluwatu Temple is amazing temple sits on 70 meter protuding cliff with some group monkey nearby, watching Kecak and Fire Dance is a Balinese dance takes story from fragment Ramayana, and then enjoy the delicious seafood dinner at Jimbaran Bay Beach. The Uluwatu Tours will bring you to the wonderful memory with three different experiences as the feature of this package. Our professional Bali Tours Driver is always outstanding offer our best services to keep your convenience trip along with private full air-conditioning car transfer to complete your enjoyable on Uluwatu Tours.
Garuda Wisnu Kencana
Garuda Wisnu Kencana is located in the southern Badung area, is a great places to visit during Uluwatu Tours, is an area with 240 hectares of land. There are Supporting facilities that you can enjoy like lotus pond, festival park, amphitheater, street theater, exhibition hall, and jendela Bali the panoramic resto and souvenir shop as well. There are many cultural performances every day at GWK. Garuda Wisnu Kencana (GWK) Bali cultural park is the window of island arts and culture against the backdrop of nature and an amazing panorama, making one of the main objectives for a variety of performing arts, exhibitions, conferences or religious visits. 

Padang – Padang Beach
Located at Jalan Labuan Sait, in the village of Pecatu, Bali. Located not too far from the tourist area of ​​Uluwatu Temple and one of place will be visit on Uluwatu Tours. To get to this beach, we had to descend the stairs are made in the cliffs. After a few yards down the stairs we are greeted by the sun. It turns a dark alley behind the beach there is incredible beauty. The waves that roll, rock-breaking waves, and the sky is captivating. White sandy beach stretching ahead of you, clear blue water and flat, perfect for swimming. If you enjoy the sunset at the beach with a few other visitors around you it will feel like a private beach. 

Uluwatu Temple
Uluwatu Temple sits on a 70-meter-high cliff protruding above Indonesian Ocean. The main site of Uluwatu Tours is visiting this temple. There are hundreds of monkeys roaming along the path outside the temple. A small forest lies at the front and hundreds of monkeys dwell here. They are believed to guard the temple from bad influences. The serpentine pathway to the temple is fortified by concrete walls on the cliff side. It takes about an hour to get from one end to another as there are several fenced points along the way to stop. The views from the bottom of the water surging up against rocks and the ocean horizon are remarkable.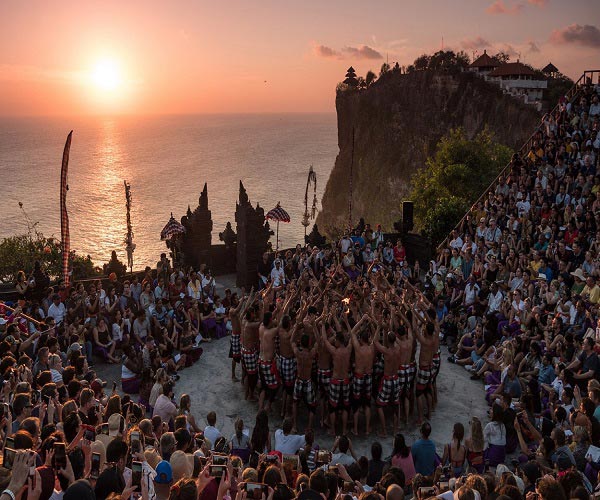 Kecak and Fire Dance
Kecak and Fire Dance is a spectacular traditional dance tell story about fragment from the Ramayana, the Hindu epic which finds its expression in many forms was held near of Uluwatu Temple. We will watch this dance during Uluwatu Tours. Kecak dance is that the accompanying music is provided by the human voice, the gamelan suara, a choir of a hundred men or more sitting in concentric circles, swaying, standing up, lying prone as the story develops. Amongst the swaying masses the voices of the storytellers can be heard telling the unfolding tale. the music generated from a combination sounds of members cak which were about 50-70 people all of them will make music in akapela.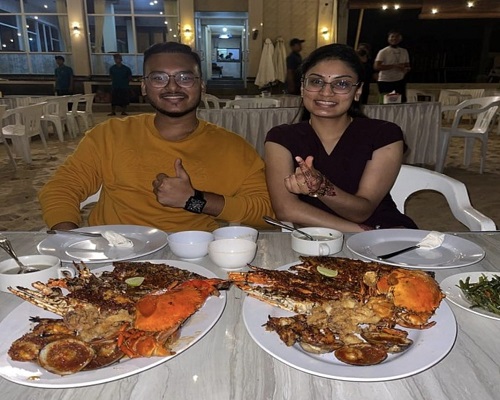 Seafood Dinner at Jimbaran Bay
Jimbaran Bay Beach was always just a small fishing village and beautiful beach located in the southern part of Bali with white sand unfolding along the coastal. Great places for having dinner after do Uluwatu Tours. There are plenty of cafes offer delicious of seafood dinner with breathtaking view of Indian Ocean. Is a perfect places to having fresh seafood dinner after do so some trip to Uluwatu temple. It is served right on the beach with beautiful table set up apposite to the ocean. Is a romantic dinner moment with great view on the beach.
11:00 – Pick up at the hotel
12.30 – Visit Garuda Wisnu Kencana
14.00 – Visit Padang – Padang Beach
17.00 – Visit Uluwatu Temple
18.00 – Watch Kecak Dance Performance
19.30 – Enjoy fresh Seafood dinner at Jimbaran
21.00 – Back to hotel
1 – 6 person : USD $ 65/car
1 – 12 person : USD $ 100/minibus
1 – 17 person : USD $ 125/minibus
1 – 30 person : USD $ 200/bus
Note :
The price Uluwatu Tours above is not include with entrance fee and Dinner (can be requested to be included, contact us for the price)
Additional Charge if include with seafood dinner package US$ 35/pax
Get special price for group booking
Professional English Speaking Driver
Modern Air Conditioned Van / Minibus / Bus
Modest cloth
hat
camera
money
sun glasses
sun screen
Garuda Wisnu Kencana Entrance fee is US$ 7/pax
Padang – padang beach no need entrance fee
Uluwatu Temple Entrance fee US$ 2/pax
Kecak Dance Entrance Fee US$ 10/pax
USD 65
- English Speaking Driver
- Petrol
- Car Full AC