Bali Ubud Tanah Lot Tour is a Bali Half Day Tour to Visit Two Beautiful tourism site in Bali islands which is interest places at Ubud Village and Tanah Lot Temple the famous for beautiful sunset view. Places of interest will be visit during Ubud and Tanah Lot Tour is visit Batuan Village is traditional Balinese village with amazing fine art gallery, then tour will visit the Ubud Monkey Forest is is a nature reserve temple complex dwelt by some group of monkeys and other tropical animals and the last visit during the tour is the Tanah Lot Temple or known as a Sea Temple due the location on the coastal lip, the temple is built on the rock with 3 acre size and perfect spot to enjoy view of sunset at Tanah Lot Temple. The Ubud and Tanah Lot Tour will bring you to the wonderful memory with experiences as the feature of this package. Our professional Bali Tours Driver is always outstanding offer our best services to keep your convenience trip along with private full air-conditioning car transfer to complete your enjoyable on Ubud Tanah Lot Tour. Below is short description places of interest will be visit during Ubud Tanah Lot Tour.
Places of Interest Will Be Visit During Ubud Tanah Lot Tour :
Ubud Batuan Village for Art Painting
Batuan village a famous Balinese Artwork / Balinese paintings and as such a famous Bali tourism destinations. Batuan village wasn't influenced by the western as they were in Ubud. They ilustrated many stories about religion and bali life. The Batuan paintings were often dark, crowded representations of either legendary scenes or themes from daily life, freakish animal monsters, and witches accosted people. The Batuan Village paintings were gradations of black to white ink washes laid over most of the surface, so as to create an atmosphere of darkness and gloom. In the later years, the designs covered the entire space, which often contributed to the crowded nature of these Balinese paintings.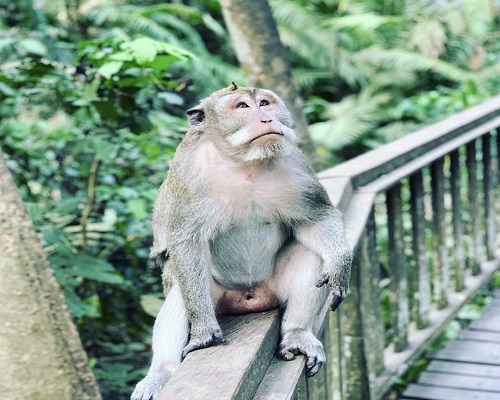 Ubud Monkey Forest
Ubud Monkey Forest is a nature reserve temple complex in Ubud Bali dwel by some group of monkey and tropical animals. Its full name as written on a welcome sign is the Padangtegal Mandala Wisata Wanara Wana Sacred Monkey Forest Sanctuary.The complex houses approximately 340 (Macaca fascicularis) monkeys (32 adult males, 19 male sub adult, 77 adult females, 122 juvenile and 54 infants).Crab-eating Macaque. It is strategically located in the hearth of Ubud Village. The maintenance and management of special place like this attract the attention of researchers from all over the world, especially the interaction between human beings and the monkeys of this sacred place are subject to surveys and research studies.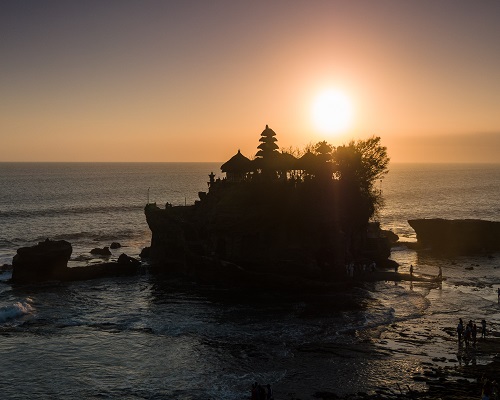 Tanah Lot Temple
Tanah Lot Temple is located in coastal side of Beraban countryside, Kediri sub district and Tabanan Regency. The word of Tanah Lot is consisted of two words that are Tanah word interpreted as a reef looking like gili or isle. Lot or Lod word has meaning the sea. So Tanah Lot is meaning the small island floating on the sea. The location is now called as Tanah Lot has been used at a Megalithic period as a place that looked into holy, proven from the existence of menhir. Not be separated from the myths that includes everything from the establishment of the Tanah Lot Temple, this temple remains one of the main icons of tourism in Bali Island.
Ubud Tanah Lot Tour Itinerary :
13.00 – Pick up at the hotel
14.30 – Visit Batuan Village for Art Painting
15.30 – Visit Ubud Monkey Forest
17.15 – Visit Tanah Lot Temple
18.30 – Back to hotel
20.30 – Arrive at hotel
Ubud Tanah Lot Tour Price :
We offer two price you can choose which is Regular Tours Price and Inclusive Tours Price, Please see below the details of Bali Ubud Tanah Lot Tours Packages price :
Regular Tours Price :
USD 45/car ( 1 till 6 person included)
USD 75/minibus ( 1 till 12 person included)
USD 95/minibus ( 1 till 17 person included)
USD 135/bus ( 1 till 30 person included)
Inclusion : Private Car / Minibus / Bus + Petrol + English Speaking Driver
Inclusive Tours Price :
USD 35/person
Note : For Inclusive Price is minimun Booking 2 Person
Inclusion : Private Car / Minibus / Bus + Petrol + English Speaking Driver + Entrance Fee
Area Covered for Pick Up :
Seminyak, Legian, Kuta, Nusa Dua, Jimbaran, Sanur, Ubud, Denpasar, Benoa Harbour, Airport
Please contact us for pick up in different area
Note :
The price already include with 21% Government tax and Services
Get special price for group booking
Regular Tours Price : is a Bali day tours price without include lunch and entrance fee, you need to pay by your own self
Inclusive Tours Price : is a Bali day tours price with include lunch and entrance fee
The tour is Private Tours, means there is no other participant, just only you and your companion
The Tour will assist by English Speaking Tours Driver
Tour Guide can be requested, contact us if you want to request Tour Guide during the trip
Time and Tourism site is subject to change based on your request.
Use contact form provide to send us message, asking information or make tour booking request.
45 USD
- English Speaking Driver
- Petrol
- Car Full AC