Bali Shopping Tour is a Bali Half Day Tour Packages to visiting balinese traditional art shop. Our professional Tours Driver leads your Bali Shopping Tour and guides you to the right places of art shop and offers the wide information about all art shop including your questions. Bali Shopping Tour will visit places of interest such as Tohpati Village for batik textile art, Celuk Village for gold and silver art, Batuan Village for beautiful painting art and Mas Village for amazing wood carving art. Our comfortable car with fully air-conditioning is featuring this Bali Shopping Tour to keep your tour more enjoyable while our Bali Tours Driver is always fully care of your safety and ensure your Bali Shopping Tour is memorable one. Below is short description places of interest will be visit during Bali Shopping Tour.
Places Of Interest Will Be Visit During Bali Shopping Tour :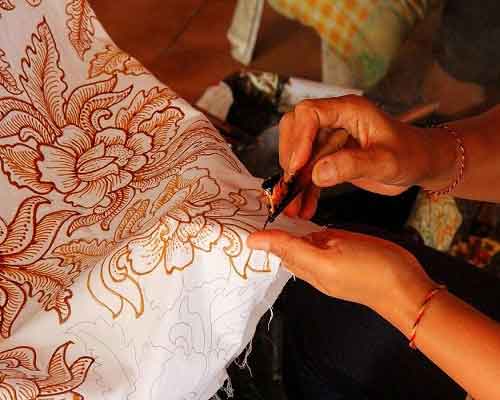 Tohpati Village for Batik Art
Tohpati Village famous for Bali's Batik Wand Weaving Center, Batik is a traditional form of painting fabric. Is perpect place to stop for having Bali Shopping Tour in this village. They painstakingly use dots and lines from wax to decorate the cloth. It is very impressive to watch. On your first visit to a batik home industry, you will undoubtedly Shopping experience an overwhelming stimulation of the senses – due to the many colors, patterns and the actual smell of batik. Only through repeated visits and a bit of study will the types of designs and their origins become apparent.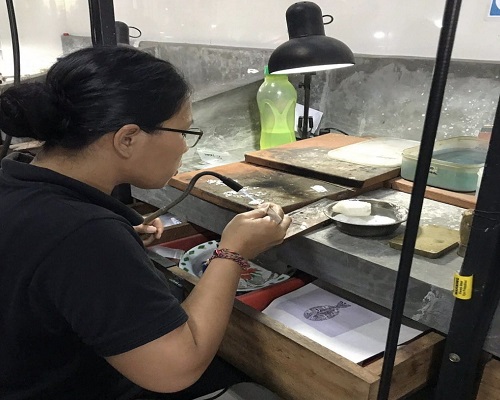 Celuk Village for Gold and Silver Art
Is the famous village in Bali as a tourist destination for the gold and silver crafting. In the past, the dwellers of Celuk Village were mostly farmers. Rumors have it that there were only three families who belonged to the caste of Pande that pioneered this industry. This caste is well-known for their specialty in manipulating all kinds of metals to create accessories for Hindu's prayers. As tourism was becoming main commodity in Bali, more and more villagers left their farm behind and began to learn to craft silver and gold. Specifically, in 1976, almost all of the villagers had become silver smiths and Celuk Village has been popular for Bali Shopping Tour with its beautiful jewelry and other silver handicrafts since then.
Batuan Village for Painting Art
For over a thousand years Batuan has been a village of Balinese Artwork and Bali handicrafts. Batuan village has a thousand year old history in accordance with the recorded history. Batuan village wasn't influenced by the western as they were in Ubud. The Batuan paintings were often dark, crowded representations of either legendary scenes or themes from daily life, freakish animal monsters, and witches accosted people. The Batuan Village paintings were gradations of black to white ink washes laid over most of the surface, so as to create an atmosphere of darkness and gloom. In the later years, the designs covered the entire space, which often contributed to the crowded nature of these Balinese paintings.
Mas Village for Wood Carving Art
Is one of villages in Bali fundamentally identified as an artistic countryside by focusing in artistic of wood carving. We will visit this village during Bali Shopping Tour. Mas Village is located in Ubud sub district and Gianyar Regency, east part of Bali. It owns the typical style of wood carving art by placing forward the distinguish synergy the humanism and naturalism. This Artistic countryside owns the long history root. The result of wood carving art in this village owns the immeasurable and wide dimension like idol for the devoting (arca idol), representative dimension of everyday Balinese social society life.
Bali Shopping Tour Itinerary :
08:00 – Pick up at the hotel
09:00 – Visit Tohpati Village for Batik Art
10:15 – Visit Celuk Village for Gold and Silver Art
11:15 – Visit Mas Village for Wood Carving Art
12:15 – Visit Batuan Village for Painting Art
13:00 – Lunch
14.00 – Lunch Finish and Back to Hotel
15.00 – Arrive at Hotel
Bali Shopping Tour Price :
We offer two price you can choose which is Regular Tours Price and Inclusive Tours Price, Please see below the details of Bali Shopping Tours Packages price :
Regular Tours Price :
USD 45/car ( 1 till 6 person included)
USD 75/minibus ( 1 till 12 person included)
USD 95/minibus ( 1 till 17 person included)
USD 135/bus ( 1 till 30 person included)
Inclusion : Private Car / Minibus / Bus + Petrol + English Speaking Driver
Inclusive Tours Price :
USD 40/person
Note : For Inclusive Price is minimun Booking 2 Person
Inclusion : Private Car / Minibus / Bus + Petrol + English Speaking Driver + Entrance Fee + Lunch Indonesian Food
Area Covered for Pick Up :
Seminyak, Legian, Kuta, Nusa Dua, Jimbaran, Sanur, Ubud, Denpasar, Benoa Harbour, Airport
Please contact us for pick up in different area
Note :
The price already include with 21% Government tax and Services
Get special price for group booking
Regular Tours Price : is a Bali day tours price without include lunch and entrance fee, you need to pay by your own self
Inclusive Tours Price : is a Bali day tours price with include lunch and entrance fee
The tour is Private Tours, means there is no other participant, just only you and your companion
The Tour will assist by English Speaking Tours Driver
Tour Guide can be requested, contact us if you want to request Tour Guide during the trip
Time and Tourism site is subject to change based on your request.
Use contact form provide to send us message, asking information or make tour booking request.
USD 45
- English Speaking Driver
- Petrol
- Car Full AC