Bali Dolphin Tour is one of the best Bali Full Day Tour to see the Dolphin in Lovina, Lovina is one of spectacular beach with Dolphin habitat in northern Bali. Our Bali Tour Driver will Pickup you early morning about 03.30 Am at your hotel lobby for Bali Dolphin Tour, we will directly to Lovina Beach to catch the traditional outrigger boat to see Dolphin, after watching dolphin at natural habitat with sunrise view and then  go to  see Gitgit Waterfall after the waterfall then driver will direct you to visit Ulun Danu Temple, the temple in the lake at Bedugul area and before we visit the temple you can get lunch at local restaurant in Bedugul with beautiful lake view. Our professional Bali Tours Driver is always outstanding offer our best services to keep your convenience trip along with private full air-conditioning car transfer to complete your enjoyable on Bali Dolphin Tour. Below is short description places of interest will be visit during Bali Dolphin Tour.
Lovina Beach
Lovina Beach is the famous tourist place in north part of Bali with the spectacular of Dolphin Watching Tour on the calm seawater. The sea water is very calm with coconut trees are planted throughout the beach. Lovina Beach is the most famous beach in north part of Bali offering beautiful panorama with coconut trees are planted along the coastal area that make it as the ideal place to stay and use traditional outrigger boat to see Dolphin in the middle of sea. Hundreds of dolphins can be seen in the morning time around 1 km offshore. We can see the dolphin attractions in this place like jumping. 

Git Git Waterfall
Git Git Waterfall is an amazing waterfall from height hill which is encircled by fertile rain forest plantation. We will visit this waterfall after Watching Dolphin at Lovina beach. This Waterfall is situated in the jungle of forest, fresh atmosphere with beautiful panorama of rice terrace are presenting on the way to this waterfall. This waterfall produce the clear water with some time the local children play around and having bath. Gitgit Waterfall is one of the famous tourist destinations in Bali which is located in Gitgit countryside, Sukasada sub district and about 70 Km from Denpasar. It is set at height land about 300 meters above sea level.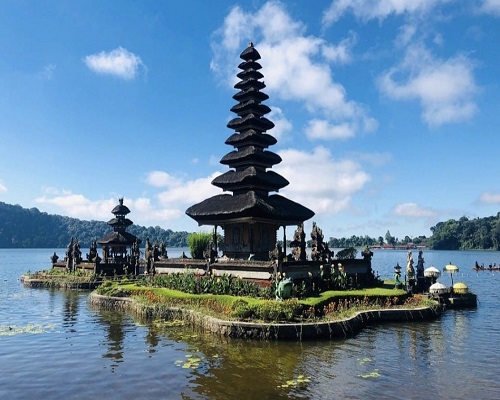 Ulun Danu Temple
Ulun Danu Temple lies by the western banks of Lake Bratan in the Bedugul Highlands at a level of 1239m, is one of the most picturesque and most photographed temples in Bali. Last itinerary for Bali Dolphin Tour is visit this temple. Ulun Danu is inside the caldera of the now extinct volcano Gunung Catur. It is one of the main sources of irrigation in the Balinese highlands, and so the temple is dedicated to Dewi Danu, the lake goddessl people. Ulun Danu Beratan Temple mostly called as a Ulun Danu Temple but not to be confused with Ulun Danu Batur Temple, which is on the rim of the caldera at Batur Lake.
03:30 – Pick up at the hotel
06.00 – Arrive at Lovina Beach
06.10 – Using traditional boat to see dolphin to the sea
10.00 – Visit Gitgit Waterfall
12.00 – Enjoy the lunch at local restaurant in Bedugul Area
13.30 – Visit Ulun Danu Temple
14.30 – Back to hotel
1 – 6 person : USD $ 85/car
1 – 12 person : USD $ 100/minibus
1 – 17 person : USD $ 125/minibus
1 – 30 person : USD $ 200/bus
Note :
The price Bali Dolphin Tour above is not include with entrance fee, rent outrigger boat and Lunch (can be requested to be included, contact us for the price)
Get special price for group booking
Professional English Speaking Driver
Modern Air Conditioned Van / Minibus / Bus
Modest cloth
hat
camera
money
sun glasses
sun screen
Rent Outrigger Boat to see dolphin in the sea at lovina beach US$ 12/pax
Ulun Danu Temple Entrance fee is US$ 2/pax
Git Git Entrance fee is US$ 2/pax
USD 85
- English Speaking Driver
- Petrol
- Car Full AC